With winter comes the onslaught of casseroles and comfort food in our house.  Nothing like a great bread sopping up meal (not so great for the waistline however).
I have not made this recipe for quite sometime, and it was high time for a change from the usual beef and red wine casserole that lurks in our freezer when I cook up meals.   I find the kids really like this one because of the addition of the scones – who doesn't like a good scone.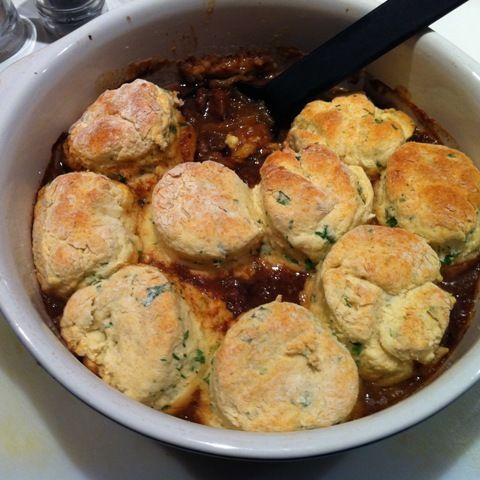 1 kg chuck steak
1/4 cup plain flour
3 tablespoons oil
4 medium onions chopped roughly
2 cloves garlic crushed
1/3 cup plum jam
1/3 cup brown vinegar
1 cup of beef stock
2 teaspoons sweet chilli sauce
Herb Scones
2 cups SR flour
30 g butter
2 tablespoons chopped chives
2 tablespoons chopped parsley
1/3 cup milk
Method:
Preheat oven to moderate 180 degrees.  Toss meat in flower and brown in a heavy based fry pan with 2 tablespoons of oil, then drain on absorbent paper.  Cook meat in batches.
Heat remaining oil in pan and cook onion and garlic until soft.  Combine meat and onion mixture in casserole or oven proof dish (I use my slow cooker at this point).
Add plum jam, vinegar, stock and chilli sauce and mix well.  Cook for 1 hr 230 mins until beef is tender. (If I cook in slow cooker I then transfer to casserole dish for scone stage)
Uncover dish and turn up oven to hot 240 degrees and place scones on top of meat, bake uncovered for 30 mins till scones are golden brown.
To make scones – Sift flour into a bowl, rub in butter until mixture resembles fine breadcrumbs. Stir in chives and parsley, then add milk and stir with a knife until just combined (cut thru it rather than mix).  Turn onto lightly floured surface and need till smooth and press out dough to cut 4 cm thick rounds.
[Recipe source: Family Circle Favourite Meat Recipes]
I love the trees of autum and it makes me want to move south whenever I see them as we cannot achieve that here in our mediterrian climate.
I love my garden, but I would so love it more if it was placed in a climate with more water and I could grow the plants I love.  It is just so dry here at the moment with no winter rains.  The lawn is dry and yellowing off and it is all just so…… urgh did I say dry.   Even the poor old vegie garden this year has suffered from the lack of rain and the destruction from the chickens.    Today it was covered with bird netting to hopefully prevent another attack from the flying chickens from hell and we may receive some winter vegies joy this year.
Come on rain, please stop by soon.